Dr. Bunkis will be regularly featured in this Cosmetic Surgery Blog, Ask the Doctor Q&A column. We invite you to call Dr. Bunkis at 949-888-9700, or email your questions to [email protected] . Enjoy!
 I am a fit, 26 year old female.  I go to the gym four times a week and play tennis at least twice a week. Most people tell me I'm attractive and I like most of my body – except for my heavy legs.  I have seen three surgeons who volunteered to suction my thighs but told me there was little help for my calves.   Won't liposuction improve my calves?  
Heather G.   Newport Coast, CA 
I can tell you that you are not alone in your predicament!   It is quite common for people to collect fat selectively in certain parts of the body more than in others – patients with thick calves might have a small waist, and so forth.   Before I can determine how much improvement can be anticipated, I have to examine a patient to pinch the area in question to determine the thickness of the fatty layer - liposuction can remove the fatty excess but some fat has to be left in place to leave a smooth contour (about a quarter or half an inch in the leg areas).   In most patients with large calves or thighs, the bulk of the mass is due to muscle and bone, and that cannot be altered surgically.  If you can pinch more than half an inch of fat in these areas, liposuction will be helpful to you.  If you cannot, then I would avoid the procedure.   Many surgeons do not feel comfortable suctioning legs because the results are not dramatic and the possibility of surface dimpling, especially if the procedure is not done right, is high!   It also takes 6-12 months for all of the swelling to go (versus about 4 months in other parts of the body).
The best way for me to give you a clear example of this is through before and after photographs of a 37 year old, very fit young lady whose main complaint was very thick calves.    Her calves were indeed quite large – notice the drastic widening of her calf just above her ankles.   I removed 750 ml (size of a wine bottle) of fat from her calves, leaving no more than a quarter inch of fat under the skin and ended up with an improvement, but the results are not as dramatic as we see after suctioning large amounts of fat from the neck, arms, abdomen or hips.   Her after photos clearly demonstrate the beneficial effect of liposuction of her fatty excess in the calf areas in a properly selected. patient!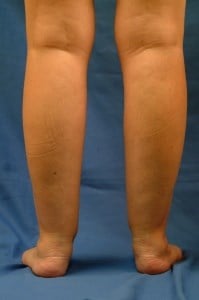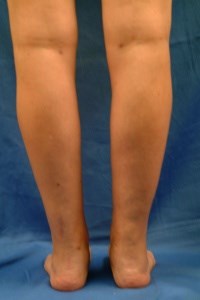 (Actual patient of Dr. Bunkis)   37 year old female before and after a liposculpture to remove unwanted fatty deposits between the ankles and knees.  
You may check out our web site at www.orangecountyplasticsurgery.com to see further examples of similar patients.