What are the recommended options for anti-aging for patients in their 30's, 40's, 50's and above? Paul G. - Laguna Beach, CA
Let me first give you a brief review of the aging process. In youth, all of us have full cheeks, tight jaw lines and good skin tone. I look at aging as a two prong process, one totally hereditary and the other one over which we have some control. We all know that as we age, we start looking more like one of our parents at a similar age. This occurs due to a totally hereditary loosening of our tissues and sagging which we cannot alter no matter how much we exercise or diet, no matter which skin care products we use, whether or not we stay out of the sun or sun bathe. This change occurs due to a relaxation of muscles under our skin and as these muscles sag, they pull some attached fat and skin with them. We have total control over the other part of the aging process and this includes factors like sun exposure, excessive weight gain, smoking, consuming too much alcohol and so forth. The skin is an organ and requires good nutrition, lack of toxins and the debilitating effects of excessive sun exposure to look its best. Very few patients in their 30's are candidates for any type of facial rejuvenation surgery but everyone from childhood on will benefit from sun protection, maintaining normal weight, exercising and good nutrition. From the mid 30's to the mid 40's, patients who begin developing neck laxity might benefit from a liposuction and an in between procedure such as a minimally invasive Thermigen® radiofrequency skin tightening.
Many patients in their 30's and 40's can achieve a more youthful face with injectables or non-invasive procedures. This lady in her late 40's wished to look younger but did not feel she was ready for surgery yet.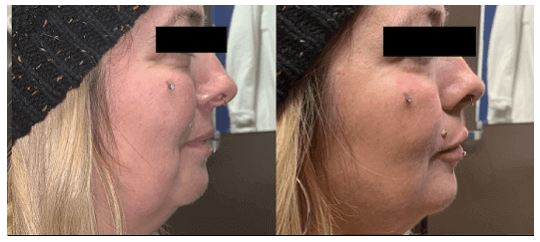 Crystl Osborn, PA-C gave her the improvement she desires with hyaluronic acid injections (Belotero® in her lower lid hollows, Restylane® in her cheeks and lips) and Botox® to her crow's feet and to her glabella to give her this improvement.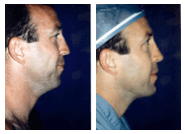 36 year old anesthesiologist with a nasal hump, weak chin and fatty neck, before and after a rhinoplasty, chin implant and neck liposuction.
Actual patient of Dr. Bunkis, your results may vary.
Newport plastic surgeon, Dr. Juris Bunkis, and his Physician Assistant, Crystal Osborn, have incorporated the BioTE® hormone replacement pellet therapy for our patients, frequently inserting pellets while they are undergoing their rejuvenation procedure, to help patients feel as good as they look.
Jaw line sagging and neck laxity begin to worsen clinically in a patient anywhere from their mid 40's to mid 50's. Reversing such drooping is a totally elective procedure but the only remedy for this sagging at this point is a surgical lift of the drooping tissues. A variety of lifts are performed but to get a long lasting lift, the skin has to be separated from the underlying muscles and the muscles suspended to their youthful position – the results from any short cut procedures done in an hour under local anesthesia which minimize undermining or muscle suspension are very short lived and not worth the effort or cost.

50 year old female before and after a facelift, lower eyelid blepharoplasty and a brow lift.
Actual patient of Dr. Bunkis, your results may vary.

If you have any specific questions about your skin or rejuvenation procedures, your best bet would be to see a qualified plastic surgeon or physician assistant to review your options. Pease feel free to contact our office at 949-888-9700 to set up an appointment; you may also check out our web site at www.orangecountyplasticsurgery.com to see further examples of our patients.