I am 57, have neck laxity and jowls but am not mentally ready for surgery. I have heard about the non-surgical radio frequency procedures and would like to know if that would be a good alternative for me.  Joan       Laguna Beach
There are a number of non-surgical, radio frequency treatments that can tighten and smooth skin. The appeal of these procedures is that they are non-surgical, non-invasive, non-painful and performed in an office setting. They are less expensive than a facelift.   The radio frequency energy is directed superficially at the external skin to treat minor wrinkling, or deeper to treat the superficial fat to sculpt the body non-surgically, to tighten the skin and to improve cellulite. These treatments can be used for jowls/jawlines, necks, inner arms, abdomens, thighs and so forth. A series of 4 treatments 2 weeks apart are recommended for maximal improvement. Here again, patients with a moderate excess of fat will still be better candidates for a liposuction or other body contouring surgical procedure. Minimal improvement will be provided for minimal wrinkling.   For patients with deeper wrinkles, a more aggressive treatment with a laser or deep peel will be more effective.   Whether or not you are a candidate for such treatments depends on the degree of your deformity, and even more so, on your expectations for the final result.      The radio frequency treatments do result in some tightening – yes, there is a little improvement, but most of our Newport Beach patients would not be happy with this degree of improvement for their necks or jaw lines.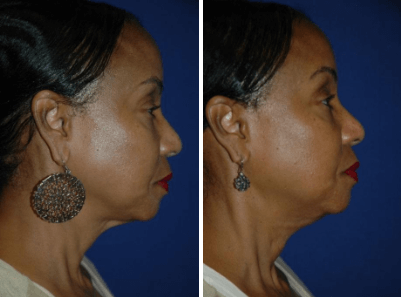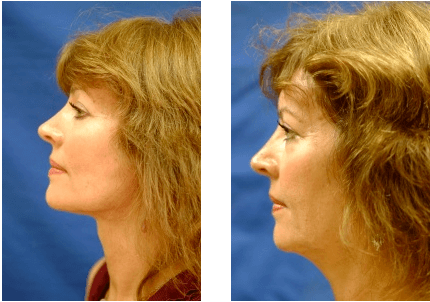 If you are OK with the results you saw in the previous set of photos, you might be a candidate for a radiofrequency treatment series.    If you expect a jawline like this one in a 50-year-old female who underwent a facelift, a brow lift and a lower eyelid blepharoplasty by Dr. Juris Bunkis of Newport Beach, CA, save your money for a facelift!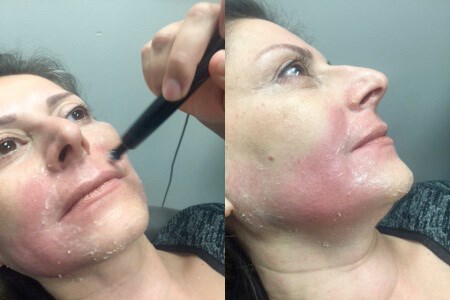 Pink skin at end of procedure. The pinkness goes away in a few hours. Final results will be visible a month after the last treatment.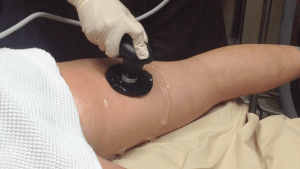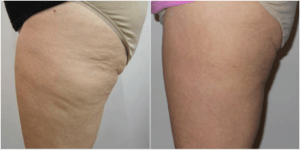 Faces, necks, and abdomens can be treated with the ThermiSmooth® handpieces if you can accept a minimal improvement. In those areas, if you want something better, you can always have a tummy tuck or a facelift. But where I find this treatment especially helpful is for cellulite. While not perfect, there is no better alternative and we've seen some amazing results with radio frequency treatments for minor cellulite.
Please send any questions you would like to see answered in a future blog to [email protected].
Feel free to contact Dr. Bunkis or our PA, Crystal Osborn, in Newport Beach at 949-888-9700 to schedule a complimentary consultation or visit www.orangecountyplasticsurgery.com for more information.