Botox does wonders for my frown lines between my eyebrows but I'm not particularly fond of the shots. Also, Botox does not work very long on me – my dermatologist told me that I built up a resistance to the Botox but I have to get another set of shots every 3 months if I am to keep my lines away. Can you do plastic surgery on these lines and make them go away?
J.L.
Corona del Mar
We'd like to make a couple of comments. First of all, Botox is a very effective muscle paralyzer and works almost always by weakening the muscles into which it is injected. You are not unusual in seeing the results fade away after about three months. We have performed thousands of similar injections and find that the effects of Botox rarely last longer than what you have experienced, 3-4 months.
We utilize a vibrator to distract patients during the injections and most patients tolerate them very well. Botox injections are very useful for someone wishing to look their best for a special occasion, but there are patients who dislike repeated injections on a permanent basis.
The same muscles that cause these frown lines, called the corrugator and procerus muscles, can be surgically removed with a minimally invasive procedure called an endoscopic brow lift. This approach is similar to what an orthopedic surgeon does when he looks into a knee or shoulder with an arthroscope, or a gynecologist does when looking at internal organs with a laparoscope through an umbilical incision. The approach is minimally invasive, yet accomplishes the same result as the older forehead lift which entailed making a long cut across the entire scalp. In the endoscopic brow lift, a few half inch incisions are made behind the hair line, allowing the instruments to be inserted. The tissues are freed from the bone, the muscles sculpted, and the brows usually raised a few millimeters. The brows are fixed in their new position with a variety of devices. We currently use absorbable Endotines® to suspend the brows at the desired level. The incisions are rarely perceptible after healing has taken place. Healing from this minimally invasive procedure is quick and there are no tell tale signs of surgery. In males who are bald, however, we prefer not to make incisions that could be visible in the future. In such males, the brow lift is done though the upper eyelid incisions and smaller Endotines® are used and placed just below the lateral brows.
Occasionally, a brow lift will be performed as an isolated procedure, but more commonly it will be combined with a minimally invasive midface or thread lift, an eyelid procedure or a standard face lift.
Another aspect to consider is cost. A single Botox injection is definitely less expensive than a brow lift but over time the cost of Botox injections will exceed the cost of a brow lift!
Pre & Post Brow Lift: This 68 year old disliked her frowning and minor neck laxity following prior facial surgery. This time we tightened her neck a little and did and endoscopic brow lift to remove the hyperactive muscles between her brows and along the central forehead, giving a permanent correction of the furrows between the brows and removing need for future Botox injections. (Actual patient of Dr. Bunkis, your results may vary.)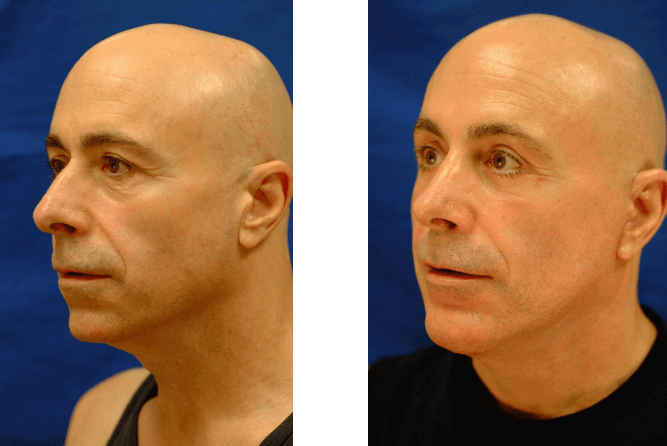 Pre & Post Transbleph Brow Lift, Facelift, Upper and Lower Blepharoplasty, Rhinoplasty and a Chin Augmentation: This bald male in his early 60's came in desiring facial rejuvenation. He also wished a smaller nose and stronger chin. Dr. Bunkis modified his facelift incisions, did an upper and lower eyelid blepharoplasty, a brow lift through the upper lid blepharoplasty incision, did a closed rhinoplasty and a Style #1 Size #2 chin augmentation. (Actual patient of Dr. Bunkis, your results may vary)