I am interested in having a facelift but as you know, we are blessed in California in that there is no shortage of plastic surgeons to choose from. I suspect that one of the more important things for a consumer to look at is a surgeon's background. Could you please tell us something about your background – and any other tips you could give someone looking for a surgeon. Michael M Dove Canyon, CA
Well, Michael, you are right – in most beautiful, relatively affluent areas, there isn't a shortage of plastic surgeons, lawyers, contractors, CPA's and so forth. I think there are three things that separate surgeons that you should consider.
education and surgical training

surgical skills

bedside manner
There is no substitute for a good education! I would be hesitant to choose a surgeon who has not been well trained, who is not Board Certified by the American Board of Plastic Surgery, and who does not keep up with his or her continuing medical education (this is a life-long process). But even amongst equally trained physicians, you will find wide variation in surgical skills. Ask to see multiple examples of a surgeon's work. And finally, all else being equal, there is no point going to a surgeon who you do not connect with on a personal level.
I will begin by going over my background. I have an impressive academic background. Upon graduating from the University of Toronto Medical School in 1974, I completed a general surgery residency at the Mary Imogene Bassett Hospital, Columbia University in New York and the Beth Israel Hospital, Harvard University in Boston. This was followed by board certification in general surgery. I subsequently returned to Harvard University to complete my residency in plastic and reconstructive surgery – my professor, Dr. Joseph E. Murray, a very impressive man - a Nobel Prize Laureate in Medicine. In 1981, I joined the plastic surgery faculty at the University of California at San Francisco School of Medicine and was subsequently appointed Chief of Plastic Surgery at the San Francisco General Hospital. To this day, you will frequently see students in our office from a variety of medical schools and physician assistant students. I am a diplomat of the American Board of Plastic Surgery and a fellow of the American College of Surgeons. I am a member of the prestigious American Society for Aesthetic Plastic Surgery, the International Society of Aesthetic Plastic Surgery, the Plastic Surgery Research Council and numerous other professional societies. Surgeons from around the world are frequently seen visiting us at Orange County Plastic Surgery.
I have made a name for myself as an innovative plastic surgeon who specializes in aesthetic surgery, with a successful practice that has thrived for 36 years. As medical director of Orange County Plastic Surgery (OCPS), I have a 5-Star practice here in South Orange County and also continue to see patients in northern California, where I got my start in private practice in 1983. I stay busy through referrals from satisfied patients from around the globe, who frequently cite my caring, attentive approach and expert surgical skills. When you come in to see us, we will make sure that you see many examples of my work – after all, I have done facelifts on five of my employees over the years and what better way to show you what we are capable of?
My philosophy is based upon the concept that a successful result from cosmetic surgery stems from a successful partnership between the patient and the surgeon. Such a partnership is based on professionalism, trust, education, and understanding. I make it a priority to really listen to the patient's concerns — our goal is to help our patients achieve their aesthetic surgery goals and as a result, feel better about themselves.
Next I will tell you a little about the practice itself. I am blessed to have an excellent staff and a wonderful physician's assistant, Crystal Osborn (who does most of the injections, bioidentical hormone replacement therapy pellet insertions, microneedling, laser treatments and other office procedures). OCPS is a state-of-the-art plastic surgery center offering a comfortable environment and the very latest advances in cosmetic surgery. We specialize in the newest techniques for face and forehead lifts, including the mid-face and short scar face lifts, blepharoplasty (eyelid surgery), rhinoplasty (nasal surgery), liposuction, abdominoplasty (tummy tuck), post weight loss body sculpting (body lifts), breast reduction / uplift through the short scar techniques, and augmentation mammoplasty (breast enlargement). I also am one of only a handful of plastic surgeons to perform pectoral, buttocks and calf implant surgery.
If your goal is to look younger, OCPS can help. Bringing together the very special talents and surgical expertise of its professional staff, we offer an array of exclusive anti-aging treatments to help you recapture that youthful glow. Services include facial rejuvenation utilizing the latest lasers, mid-face and endoscopic brow lifting techniques, as well as eye lid and nasal surgery. Best of all, the center's computer imaging system will give you a sneak preview of the expected outcome so you can make an informed decision about your surgical procedure. OCPS has a state-of-the-art laser suite featuring a variety of lasers especially adapted to treat fine lines and wrinkles, spider veins, Rosacea, unwanted hair and pigmented lesions of the face and body.
Are you ready to make some positive improvements to your appearance? Dr. Bunkis and his expert staff can sit down and review your goals and options, and ensure that your aesthetic surgery dreams become a reality.
Distinctions and qualifications:
Harvard trained, double board certified surgeon

36 years' experience

California's premiere facial and body rejuvenation centers

Minimally-invasive and "quick-fix" anti-aging treatments

Convenient south Orange County and San Francisco East Bay locations
If you have any specific questions about cosmetic procedures, your best bet would be to see a qualified plastic surgeon to review your options. Pease feel free to contact our office at 949-888-9700 to set up an appointment with Dr. Bunkis; you may also check out our web site at www.orangecountyplasticssurgery.com to see further examples of similar patients.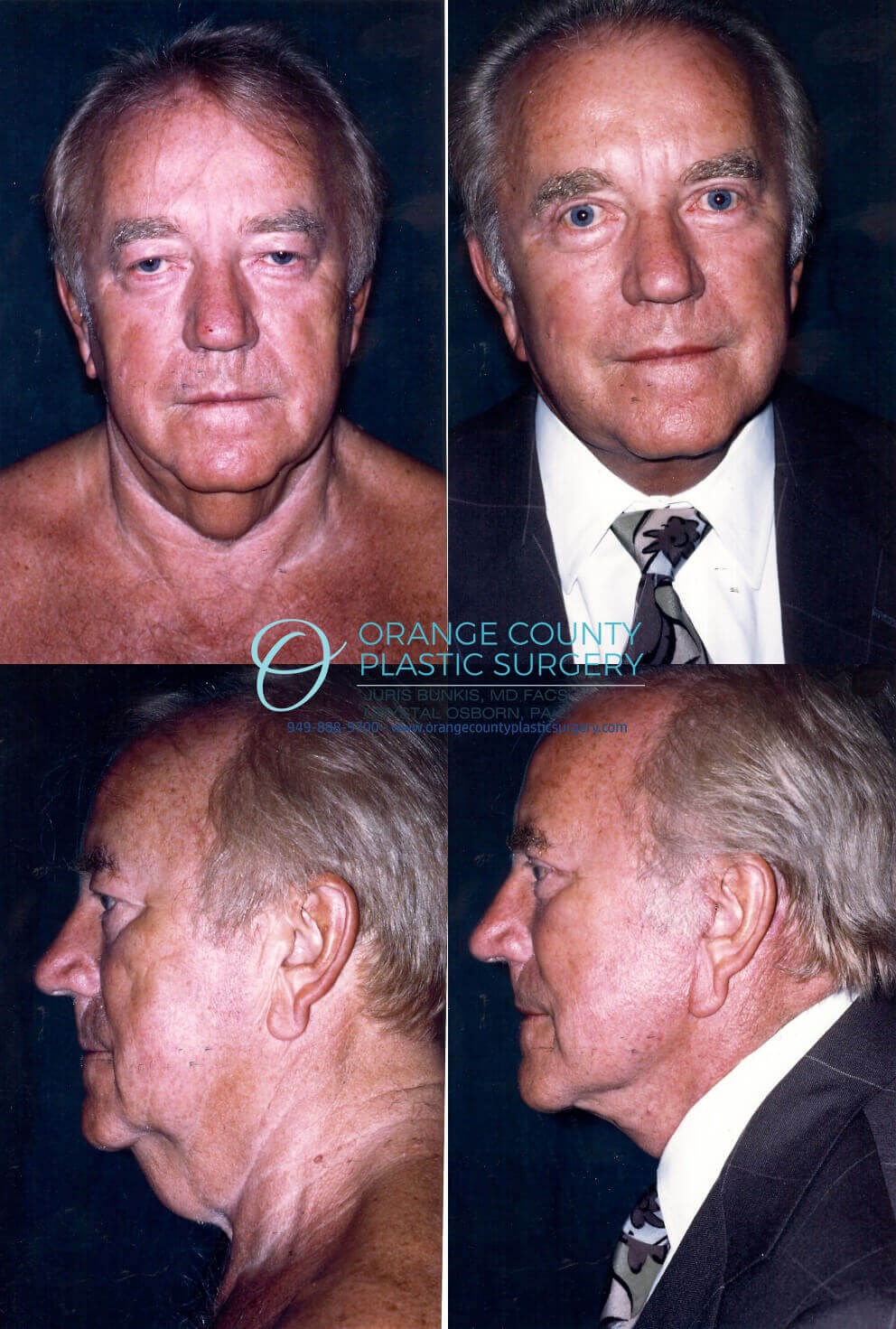 Actual patient of Dr. Bunkis: 76 year old male with lax neck, who wished to have it improved to increase his value in the workforce, before and after a neck lift, an upper and a lower lid blepharoplasty