When contouring the face or hands, we can use dermal fillers or collagen stimulators in the office for minimal downtime and great results or, fat grafting may be added on to further enhance surgical procedures, such as a facelift.
As we age, fat pads shrink, muscles atrophy and bones go through resorption. All of these key features provide structural support and balance which together, create a youthful appearance. Luckily, there are ways to help rejuvenate and contour the face, depending on which decade of life you are celebrating and of course, what your goals are.
The best facelift surgeon in Orange County is our very own, Dr. Juris Bunkis. He can address many of your facial aging concerns in the OR with his skilled hands and set of surgical tools. As I mentioned previously, he can further augment your results with fat grafted from your own tissues, collagen stimulators or dermal fillers. Typically in the OR our patients elect to have fat grafting. Fat grafting however, can vary due to the fact that it is living tissue, therefore the fat must find a viable blood source to survive. For this reason fat grafting duration can be unpredictable, but does provide a wonderful aesthetic option for filling areas like lips, cheeks and temples.
Many of our non surgical patients elect to contour and enhance their facial features or hands with dermal fillers and collagen stimulators in the office. These procedures only require topical numbing and we do have a protocol in place to minimize discomfort during your treatment.
Filler choice is all about the area we are treating and goals. It also depends on if you have significant bone resorption, fat pad or muscle atrophy, or just augmenting small features. Not every filler procedure is identical or done in a "cookie cutter" fashion. For example, if you and your best friend both want your cheeks to pop or your lips fuller, it is likely that we will select different products and even alter the technique of the injection as well as placement of the filler product.
One thing I do not obsess over with my patients is the duration of each filler, for the following reasons; the FDA approval studies used much higher volumes of fillers than most patients will have in one sitting and it depends what area we are treating. I find that in most patients, filler around the mouth for example, does not last as long as fillers in the cheeks. There are generalities to be made based on what I see clinically regarding duration of correction and this can be reviewed when you come in for a consultation and facial analysis.
In summary, it is important to come in to discuss your individual goals and concerns to determine if you are a good candidate for surgical, nonsurgical, or a combination of these treatments to reach the look you desire! Also to note, I personally have tried fat transfer to my lips and fillers and I love both! Come ask me why!!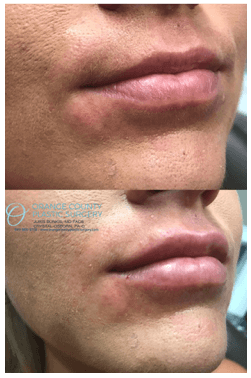 Actual patient of Crystal Osborn, PA-C. This patient had filler placed in the lips.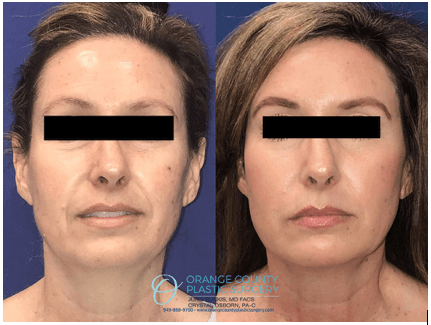 Actual dermal filler patient of Crystal Osborn, PA-C. She had fillers to add support to the cheeks, jawline, under eyes and lips, creating a more youthful and balanced look.
Actual patient of Dr. Juris Bunkis who had fat transfer to the lips during a surgical procedure in the OR.