As Medical Director of Orange County Plastic Surgery, Juris Bunkis, M.D., F. A.C.S. brings 37 years of surgical expertise to our communities.  Dr. Bunkis is a Harvard trained, double Board Certified Plastic Surgeon and Member of numerous prestigious organizations including the American Society of Aesthetic Plastic Surgeons, The International Society of Aesthetic Plastic Surgery, the American Society of Plastic Surgeons and the California Society of Plastic Surgeons.  Dr. Bunkis, a former faculty member at the University of California, San Francisco, has published more than 40 scientific publications, abstracts and book reviews, and 17 book chapters in plastic surgery text books. He is also the Honorary Consul for the Republic of Latvia and a Volunteer Sheriff's Deputy with the San Bernardino Sheriff's Department.
My wife, Tina, and I wish all of you a very Happy Thanksgiving!    This is Thanksgiving week, one of our favorite times of the year. This is a time to get together with family and friends, to be thankful for all the blessings we enjoy in this great country of ours.   This year we are especially grateful for the gift of our first grandson, Colton John Bunkis, born on October 15, 2018.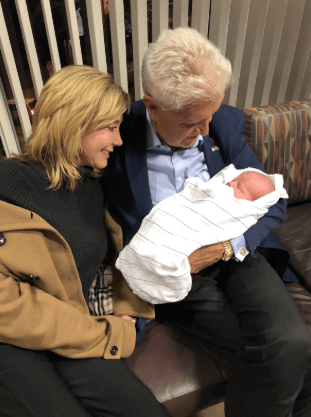 No matter our religious affiliation or political creed, social status or age, all of us have much to be grateful for compared to many others in this world.    We celebrated Thanksgiving with our children and their families, the son of Tina's cousin from Norway who was here with a friend to see a concert in LA, as well as my Mom and sister, Inara, visiting from Canada.     We began our celebration by saying prayers to thank the Lord for all of our blessings, and then went around the table and allow everyone to individually mention what they are most grateful for – and for those who could not be with us like my father, Janis, and Tina's parents, Ingeborg and Alvin Stensland, who are now with the Lord.   
But for many years when our children were young, I missed Thanksgiving at home because I travelled to Guatemala during this time of year to help those less fortunate than any of us.   I took a team of other physicians (a general surgeon, a gynecologist, an ophthalmologist and a plastic surgery resident), nurses and a few lay people volunteers to a village in the northwest corner of the country, near the Mexican border, called Nuevo Progreso – an 8 hour bus ride (in a rickety, old yellow school bus) from Guatemala City, the last hour being over a narrow, winding dirt road!   The hospital was built by locals with supplies and funds donated by the Hospital de la Familia Foundation from San Francisco. Before I get to the specifics of such trips, I would like to say that many physicians do similar work at home and around the globe, yet rarely do such trips get reported in the press. Upon arriving in the small village, we would be greeted by a marimba band and firecrackers, as the town's people would come out to great us.   The hospital is a cinder block structure with a corrugated roof – can you imagine how loud the thunderstorms sounded each afternoon?

We lived on the hospital grounds and ate local foods, in a relatively Spartan environment.    After a breakfast of papaya, beans, eggs and some coffee, we would start seeing patients and deciding who we could help and who we could not – a very difficult experience to say the least!    One year, I met a four year old boy who had never walked, with a painful hip and fever. I noticed a mass over the side of his hip and decided to open the area to see what the cause of his problem was – we did not have X-ray or laboratory facilities in this town and any specimens had to be sent back to Guatemala City by bus.   I was surprised to find a cheesy white material in the joint and did not know what it was – a few days later, we found out that this youngster had TB in his hip joint. There was no way to help him further in Guatemala and I volunteered to take him home with me. He lived with us but was treated at the Shriners Hospital in San Francisco and recovered over a six month period, at which time another team of volunteers brought him back to his village.  
We would see patients or operate from about 7 am until 7 pm each day for about ten days straight, and during this time, performed about 150 operations.    The bulk of the patients I saw were kids with a variety of birth defects or injuries. But in the early 80's, while civil war raged in Guatemala, it was not unusual to see someone in fatigues come in for treatment of an injury, and we never asked which side they were on!  We were there for the kids and neither side saw any advantage in harassing us! As a matter of fact, the government was quite helpful, expediting our trips through customs, providing us with the yellow school bus to bring us to Neuvo Progreso, and giving us armed guards for the journey.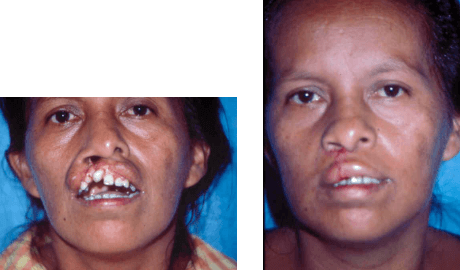 Whenever we could, we did an adult patient as the first one for each trip – adults are more forgiving and we did not want to "test the system" on a malnourished 3 month old!   A different group of volunteers went down to this village four times a year but in between, the hospital was run by the real heroes in this story, the nuns from Mexico and Spain, and the padre from Italy, who live there permanently and have given their lives for the local people!

Young child with a bilateral cleft lip and palate, repaired by Dr. Bunkis and shown here a week later when her sutures came out.