We hope that you will be able to joint us for our special "Mommy Makeover" event on September 26th at the Newport Beach office of Orange County Plastic Surgery at 4501 Birch St. We will discuss all aspects of breast surgery and body contouring. Refreshments will be served.
Breast implant surgery, a frequent part of Mommy Makeovers, is the most common aesthetic breast procedure in America, although in some parts of the world, reductions and lifts are more popular.   Breast augmentation can increase the fullness and projection of a woman's breasts, improve the balance and proportions of her figure and improve her self-image and self-confidence.    

Are breast implants safe and how long do they last?  
The first silicone breast implants were inserted in the mid 1960's.  By the mid 1970's, when I began doing surgery, breast implant procedures had become main stream.    During these early years, I do not recall much discussion with the manufacturers, other physicians or a patient regarding longevity of such implants in those days – the assumption was that they would last forever and never need to be replaced!    But boy, were we all naïve at that time!   Knowing what we now know, hip joints, knee joints, heart valves, and pacemakers all wear out and have to be replaced eventually.   We know now that all breast implants will rupture eventually if the patient lives long enough.  Given this fact, there are two important questions.   Does a ruptured implant cause a patient any harm?    And secondly, what is the expected longevity of a breast implant and when should they be replaced?
We now know that all breast implants, whether gel or saline filled, will rupture eventually but the important thing to know is, that with current implants and early detection, there is little likelihood of harm to the patient following a rupture of either saline or gel filled implants.  We strongly recommend that breast augmentation patients should see a plastic surgeon annually and offer this service to our patients free of charge.
The "How long do implants last" question is a little more difficult to answer.   I will start by telling you what happens when an implant gets inserted and why an implant eventually ruptures.    It is normal for a body to make a thin layer of scar tissue around every foreign device that is inserted, be it a chin implant, a knee joint, a breast implant or a pacemaker.     If one were to look inside the pocket around a breast implant, one would see a thin layer of scar tissue, the so called "capsule", that, from the inside, is smooth, soft, whitish and looks like the inside of a plastic bag.    An implant is a loose, floppy bag that has folds in it.   After implants have been in place a long time, let's say over fifteen years, the body may begin to deposit calcium in this scar tissue around the implant.   These calcium deposits grow in size and begin protruding into the pocket housing the implant.   Once this occurs, the roughened calcium deposits cause the implant shell to rupture.    It is our strong recommendation that all implants which have been in place for twenty years be replaced.
Breast implant surgery is so popular because there is a high patient satisfaction from such procedures.  The important thing to take away from this discussion is that implants are safe and rarely lead to problems if inserted properly and if replaced before the twenty year mark comes up.
Let me show you an example of the scar tissue I removed from a patient, along with ruptured implants, who had some firmness but otherwise felt fine, some 25 years after the implants were inserted.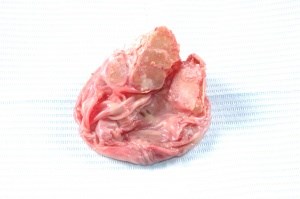 (Actual patient of Dr. Bunkis)   I opened the scar tissue and removed the broken implant and free gel.  I turned the scar pocket inside out, the same way you would turn a sock inside out, to show you what was inside.   Note the heavy sheets of jagged, sharp calcium deposits along the upper half of this opened pocket.  The bottom contains smooth, soft scar tissue and looks like any healthy lining inside a relatively new capsule.