Creams and SPF: Hydrating neck creams and the use of a good SPF, such as the Peptide Repair Throat Complex and MD Sun Protection USF 43, by MD Performance ™, help protect from new damage and are vital components in maintaining a youthful neck. www.mdperformance.com

Injectables: Help improve "Tech" neck and strong platysmal bands that strain with contraction, with Botox ®or fillers. Exam needed to determine candidacy for either or both options. No downtime with these procedures although, there is a risk for bruising and swelling with any injectable treatment.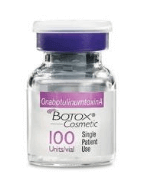 Radiofrequency: We use the ThermiSmooth® RF device to help improve neck tone- this device can be used on the face and body as well! It stimulates collagen using heat to help tighten and lift. This treatment is recommended in a series of 4-6 treatment, spaced 3 weeks apart, for optimal results. There is no downtime for this treatment.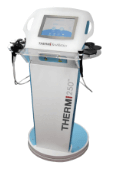 Chemical peels: We offer varying depths of chemical peels to address concerns ranging from; dark spot correction, fine lines and wrinkles or maintenance. We offer the Perfect Peel, TCA at different strengths and the classic phenol/baker's peel.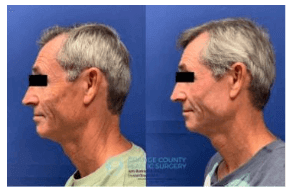 Fat- If you have a little extra fat in the submental area- or under the chin, we have a few options to consider. There's an injectable (Kybella®- reduces fat), a laser treatment (SculpSure®- reduces fat and tightens skin) and of course surgical options, with OC'S top plastic surgeon Dr. Bunkis, (liposuction-reduces fat, with our without thermitight®- tightens skin).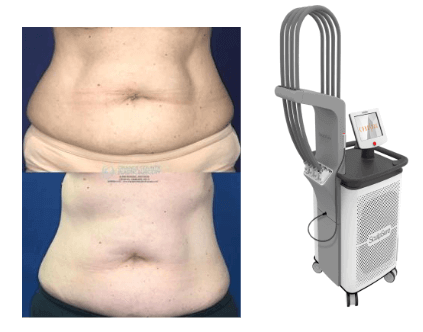 Facelift: In some cases, surgery is the most cost efficient and beneficial to a patient. Dr. Bunkis performs the best facelifts in Orange County. A facelift can tighten sagging muscles and remove excess loose skin!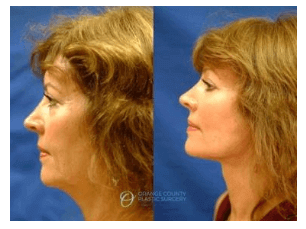 Come by the office here in Newport Beach, for a consultation to determine the best options to improve your neckline!