"I work out almost every day but hate how my inner arms jiggle when I wave my arms. What are my options to fix this?" Marie C Newport Beach
This is a hereditary condition that happens to almost every female beginning in her 30's and has nothing to do with being fit or normal weight. Lifting weights will increase the size of your biceps or triceps but will not tighten the skin which hangs under the arm. The same condition occurs in most females along the upper inner thighs, but interestingly this happens to very few males. We see two basic types of patients with inner arm laxity – those with minor fatty and skin excess, some with just a minor skin excess and no extra fat; or those patients with a significant excess of skin and fat, particularly in patient who are or have been overweight.
For the first category of patients, most of whom are and have always been normal weight and fit, the minor degree of skin tightening and fatty excess can be treated with a radiofrequency skin tightening treatments called ThermiTight®, with or without a minor liposuction. After a liposuction but without the radiofrequency treatment, the skin will likely hang even more than it did before the treatment. After the liposuction treatment (during which, usually, a very small amount of fat is removed), a narrow probe thinner than a ball point refill is inserted into the opening and the undersurface of the skin heated to 60 degrees Centigrade (while monitoring the external temperatures to keep the surface temperature under 42 degrees Centigrade to avoid surface blisters). This treatment is continued for about 30 minutes per side. The arms are then wrapped and, when the wraps are removed four or five days later, the arms do not look much different than they did after the liposuction but before the ThermiTight® treatment was begun. But over the next four to six months, the skin tightens as a result of the heat that was applied to its undersurface and a significant improvement occurs in the appearance of the inner arms – for most patients, removing the annoying "jiggling" that was present before the treatment. This is a video of Dr. Bunkis performing the ThermiTight® procedure for the inner arms: https://www.youtube.com/watch?v=vCWbObyeYr0&feature=youtu.be and photos of an actual patient of Dr. Bunkis before and after an inner arm ThermiTight® procedure in a female in her 60's who was fit but had inner arm laxity prior to her procedure, totally corrected afterwards for this pleasing result: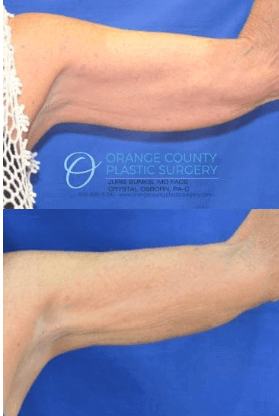 Those patients who have a significant amount of inner skin excess, with or without a fatty excess, will require a skin excision with a final scar resting along the inner arm from the arm pit to the elbow. A liposuction is also performed on people with excess fat, and I have removed as much as one liter of fat from each arm on heavier patients. These scars will not be fine lines but once they fade are usually not noticeable to the patient and most are very grateful to get rid of their hanging inner arms. As with everything in life, this procedure provides a tradeoff –we are trading the final scar for a marked improvement in contour. You can view more details about this procedure in this video of Dr. Bunkis performing a brachioplasty: https://www.youtube.com/watch?v=g2Yx5mkg4Dg and photos of an actual patient of Dr. Bunkis in her 40's after a significant weight loss, before and 3 months following a brachioplasty during which extra fat was aspirated and excess skin removed – the scar will fade very significantly over the next year: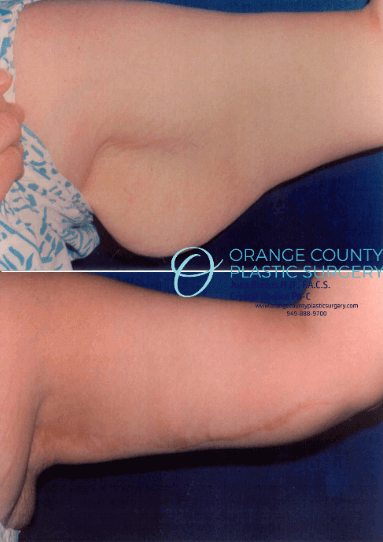 Please send any questions you would like to see answered in a future blog to [email protected].
Feel free to contact Dr. Bunkis in Newport Beach or Dublin CA at 949-888-9700 to schedule a complimentary consultation or visit www.orangecountyplasticsurgery.com for more information.