Dr. Bunkis will be regularly featured in this Cosmetic Surgery, Ask the Doctor Q&A column. We invite you to call Dr. Bunkis at 949-888-9700, or email your questions to [email protected] . Enjoy!
IS LIPOSUCTION DANGEROUS?  Cheryl B , Mission Viejo, CA
There are risks with any surgical procedure – indeed, any activity in life. But when properly performed, liposuction becomes one of the safer surgical procedures performed by plastic surgeons. Surface irregularities can occur if an area is over suctioned – this can be avoided by not doing so! People have been injured by perforations of the abdominal wall or chest – again, best to be avoided. Another issue that can be dangerous is removing too much fat at any one sitting. California actually has a law that more than 5 liters of fat cannot be removed in one operation – the law is in place because some doctors would aspirate more and patients went into shock and died.     During the early days of liposuction, larger cannulas which could leave surface irregularities were employed and blood loss could be significant. Now cannulas are of a much smaller diameter and fat removal is more precise. In 1986, Dr. Bunkis and associates published the results of their research with liposuction associated blood loss  (Quantitative analysis of blood and fat in suction lipectomy aspirates. Plastic and Reconstructive Surgery 78:765) and recommended instilling local anesthetics containing epinephrine into the surgical fields to reduce blood loss. As a result, most surgeons doing liposuction today infiltrate large amounts of saline solution containing local anesthetics into the surgical sites prior to suctioning. Infiltrating this wetting solution is generally know as the tumescent technique and has resulted in less blood loss and reduced bruising, thus expediting recovery after liposuction. But all this having been said, liposuction today is a very safe surgical procedure that can produce life altering results.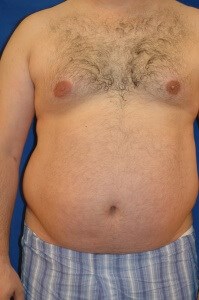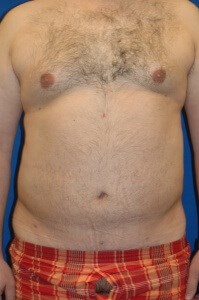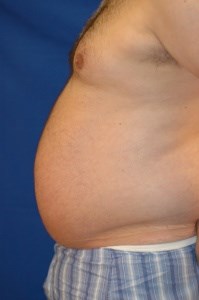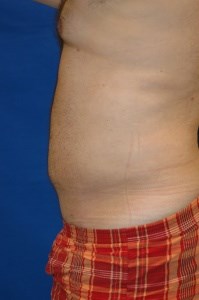 Actual patient of Dr. Bunkis – 39 year old male before and after a 4,200 cc liposuction procedure of the abdomen and chest.
You may check out our web site at www.orangecountyplasticsurgery.com to see further examples of similar patients.