When I see new patients and I'm reviewing their medical history at the beginning of a consultation, I notice that many patients tell me if they have had their appendixes out or shoulders operated on, but many fail to mention, unless I specifically ask, if they have had prior aesthetic surgery! Sometimes patients seem surprised by my question and tell me they thought the question about prior surgical procedures just applies to "real surgery"! Well, I have to stress that aesthetic surgery IS real surgery and prospective patients should not be shy about mentioning what procedures they have had previously.
How does aesthetic surgery differ from other types of surgery? I'd say that the main difference between the two is that aesthetic surgery is always elective surgery and cannot be deemed medically necessary! General surgeons, orthopedic surgeons, gynecologists and the like make a decision to operate based on a history, a physical exam, laboratory and other tests – they make a diagnosis and recommend a procedure based on the problem and rarely take psychiatric issues into consideration. If a deranged patient has appendicitis, an appendectomy will be recommended to the patient or care giver, regardless of mental illness. With elective plastic surgery, however, the plastic surgeon must also take a history, do an examination, do appropriate tests but before making a recommendation, but of equal importance, the patient's psyche and motivation must be evaluated and psychiatric issues sorted out! The goal of aesthetic surgery is to enhance a person's body image and self esteem – we have to know in advance what makes a patient tick, why the patient is asking for a particular procedure, decide if the patient has realistic expectations regarding the final results, and decide if the patient will be happy with the expected final result. Patients must have a sound reason for wanting a procedure and have reasonable expectations of the result – for example, if a patient is ambivalent about a procedure but I detect that the spouse is encouraging an enhancement here or there, I'll tell the patient right there and then that they are not a candidate for the procedure. If I perceive that a patient does not have realistic expectations or is unlikely to like the result, I will not operate on a patient! Patients who are not mentally sound or who do not have realistic expectations will become a total nightmare for the surgeon and are rarely happy with the results – asking for more surgery soon after the procedure, threatening law suits and writing negative reviews. All of us are taught to stay away from such patients - how does it happen that such patients occasionally get through our defenses? First of all, many patients who have an abnormal body image have been turned down at other doctor's offices and may have figured out what to say or not to say that would raise a red flag for an examining physician or his staff – they lie and say things that the doctor wants to hear! But some patients get through simply due to a doctor's ego or inexperience, thinking that he or she can improve a patient who others have failed to help!
The goal of all our aesthetic procedures is patient satisfaction. It matters not how great a result we think we have achieved if a patient walks away dissatisfied. To a large part, patient satisfaction stems from reasonable expectations, and thus our need to fully educate our patients before considering surgery, and to evaluate a patient's psyche before offering surgery.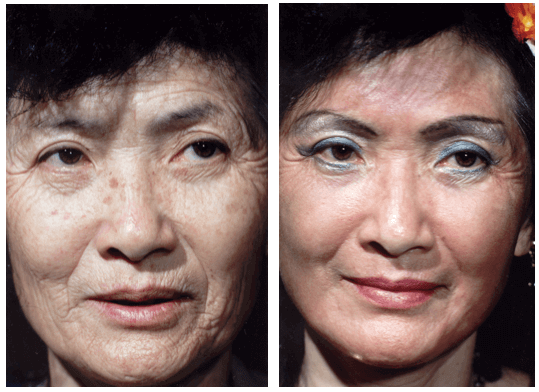 Above is an example of a 74 year old Japanese female that I had helped with a facelift some 17 years earlier. She came back requesting another facelift. She had been an excellent patient the first time around; her motivation to look better was sound. I did not think that she has enough laxity to benefit from another lift but when I asked her specifically what bothered her, she pointed to her many fine lines and brown spots. I recommended that she consider a facial skin resurfacing procedure. We decided on a chemical peel, did a phenol peel and she was very happy with the final result!