As we age, our skin thins and becomes more lax, while old scars and dark spots can become more prominent, through the loss and thinning of collagen fibers. Luckily for those who want to address these issues, there are many options that we offer here at Orange County Plastic Surgery, both surgical (with Orange County's top plastic surgeon Dr. Bunkis) and non surgical. We offer a complete portfolio of treatments to fit your goals and always strive to continue our education and bring in the newest and greatest for our patients. By popular demand and by increasingly positive research, we now offer microneedling!
Let's take a look at the evolution of microneedling. In the 1950's a doctor by the name of Michel Pistor was performing mesotherapy, the use of multiple small needles to inject medications for pain management and vascular disorders. Overtime he noticed an improvement in skin quality which developed the original theory behind microneedling, whether he knew it or not. In the early/mid 90's there were two additional reports of improved skin quality and scarring with subscision and needle dermabrasion. In the late 90's, a third Doctor in South Africa, Dr. Fernandes, presented microneedling in San Francisco. This presentation lead to the demand for advancements in collagen induction therapy in the early 2000's and out came the "do it yourself" derma rollers for at home use. Skip a few years ahead and we now have a whole collection of microneedling devices on the market!
However, there is only ONE FDA approved and studied microneedling pen, cleared for safety, efficacy and consistency and that is the SkinPen® by Bellus Medical. This device has FDA clearance for needle durability, penetration and reliability. These features ensure there is no scraping of the skin, which can cause scarring or post inflammatory hyperpigmentation, and the device delivers consistent results and operates to the depth and speed indicated by the provider, every time. Moreover, one of the most important features of this device that sets it apart from many, is something called "fluid ingress," which means there is no cross contamination of bodily fluids between patients.
Now, a little bit about the procedure. Microneedling uses controlled microinjuries to induce open channels which triggers your body's innate response to injury and promotes a positive inflammation, proliferation (skin cell turn over) and remodeling process, to improve your skin texture, quality and brilliance. The remodeling process with microneedling creates new collagen without fibrosis. Because of this mechanism, we are able to break up old acne scars, decrease hyperpigmentation, soften lines, smooth skin texture and tighten enlarged pores! Wow, that's a mouthful.
Microneedling is a great option for all skin types, light and dark. During clinical studies, there were no adverse reactions regarding pigmentation irregularities post treatment and zero reports of dissatisfaction with the procedure. In fact, 90% of patients in the studies done by SkinPen® admitted they would recommend the treatment. However, I have to caution that microneedling is not recommended in the treatment of keloid scars or in individuals who are prone to developing keloids or for individuals on accutane therapy.
Microneedling can be done on the face, neck, décolletage and even on the arms for that hard to treat crepey skin! We use topical numbing medication for patient comfort and provide a serum formulated and studied by Bellus Medical in conjunction with the SkinPen® device, to take home with you to use for the first 24 hours following your procedure. The downtime is minimal and most can return to their normal routine the day after treatment.
I personally chose to have the treatment done at our office so that I could better relate to patients and describe what to expect, while I am performing your treatment, as well as what to expect after your treatment!
You can see my photos below. We are very excited to offer microneedling to our patients, so call and book your appointment today!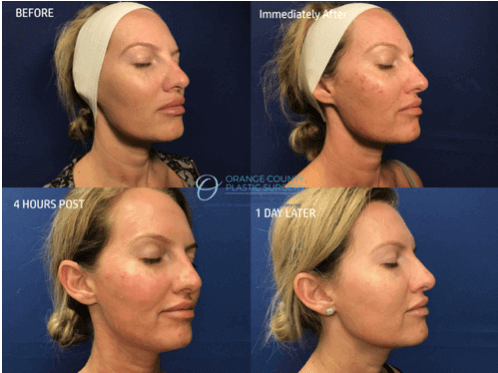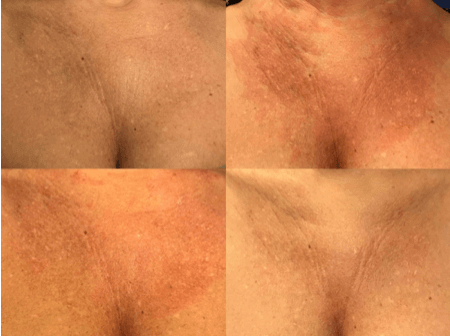 These photos show before a microneedling treatment of the face, neck and décolletage, immediately after, Four hours after the treatment and the following morning. Notice the immediate erythema that dissipates over 24 hours. Results will be noticeable at day 30, when the next treatment is indicated. Stay tuned and check our website for more progress! Actual patient of Dr. Bunkis at Orange County Plastic Surgery.
You can reach us through our website, by phone (949) 888-9700 or by email [email protected]