The purpose of a Mommy Makeover Orange County is to make you look your best after pregnancy and childbirth have left its mark on your body. Each patient receives a personalized plan based on their goals and physical needs. Multiple procedures combined for a whole new look. While it's referred to as a Mommy Makeover, it can be for women of any age and background who want to make significant changes in their bodies.
Mommy Makeover Orange County The body changes after you have children, and you look in the mirror and say "Who is this woman?" While you can't turn back the hands of time, you can improve what you see in that mirror with a Mommy Makeover Orange County. Before you decide this is the route you want to take to the new and improved you, learn what the process is and what it can do for you.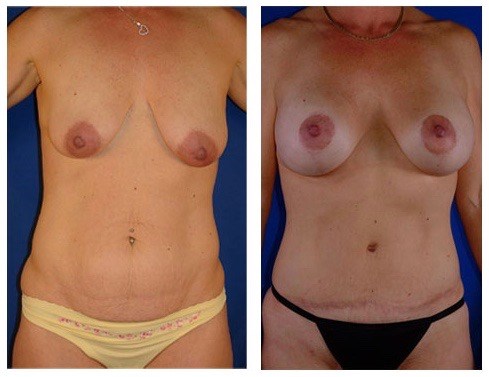 Mommy Makeover Before And After Photos
Actual patient of Dr. Juris Bunkis of Orange County Plastic Surgery in Newport Beach, California
Who is a candidate for the process?
The best candidate for a Mommy Makeover is someone in good health who is finished having children. These women are between the ages of 25 and 50, but there is no real cutoff. They have sagging skin, extra fat deposits around the waist, on the hips or in other areas. Their breasts may be sagging as well.
What procedures are in a Mommy Makeover?
In most cases, a surgeon combines an abdominoplasty or tummy tuck, breast surgery and liposuction. The specific areas to be treated depending on the individual. The doctor works with each patient to determine what must be done to achieve the desired results.
What happens during the surgery?
Once the person is sedated, the muscles around the abdomen are stitched together and excess skin are removed. Fat cells are removed from the midsection and finally, breast surgery is completed. Much of the time, this involves only a lift, but an augmentation may also be needed.
What is recovery like for a Mommy Makeover?
In the beginning, the patient will need a lot of assistance and support from family. This need for help usually occurs during the first week to ten days. The person will be walking on the first day, but they won't be able to do many other activities or regular daily tasks on their own. As the soreness and swelling begin to lessen, the person will engage in mild exercise. Good nutrition is important during this time to help in recovery. Initial recovery will take about four weeks with final results not being seen for some time yet.

Are there risks associated with this procedure?
Each surgery is a major procedure, so combining them all can be even more aggressive. It's important to talk with your doctor to determine your own risk for a Mommy Makeover. The doctor can work with you to lessen any known risks and to choose specific procedures that are best for you. A Mommy Makeover can give you a body to be proud of and provide added confidence. Choose a reputable surgeon and don't be afraid to ask questions. If this procedure is the right choice for you, it can be the best decision you ever made.