I have some jowls and neck laxity and want to look into a facelift procedure. I have heard of light lifts and feather lifts, Lifestyle lifts, lunchtime lifts, and so many others – what's the difference and which one should I choose?
Dr. Juris Bunkis recommends the Newport Beach Natural Facelift. This approach began as a rather primitive, skin only procedure performed by surgeons doing facial rejuvenation until the mid-1970's. At that time, a very forward-thinking Swedish plastic surgeon, Tord Skoog, analyzed the aging face. Dr. Skoog came up with the understanding that the main culprit in sagging facial tissues was a drooping of underlying muscles and deeper tissues. Dr. Skoog's idea of lifting these underlying muscles to produce a more long-lasting and more natural facelift procedure.
Since that time, an abundance of variations has been described to address the aging face ranging from mini-lifts such as the LifeStyle Lift to skin only facelifts and a variety of deeper plane procedures which address the underlying sagging muscles. Interestingly, most of the practices can produce a significant improvement in facial enhancement, but they vary in the longevity of the results. Yes, a lot depends on patient expectations, but most of our Newport Beach facelift patients do expect a longer lasting result and a natural appearance. The only way to achieve this is to lift the underlying muscles and reposition them where they were in your younger years.
With so-called mini-lifts or Life Style lifts, I undermine a small around the ears, and the skin pulled back for a very temporary improvement. But the muscle sagging is not addressed – we see many patients who have chosen these minor procedures and are in to see us a year later because the jowls have recurred or the neck laxity has returned. Understandably so as the sagging muscles causing these issues did not get repaired. The natural, long-lasting appearing facelift is achieved by elevating the skin, replace the tissues where they were in youth, and to resect excess skin, but not to pull the skin tight. The following examples illustrate our approach to facial rejuvenation with the Natural Lift.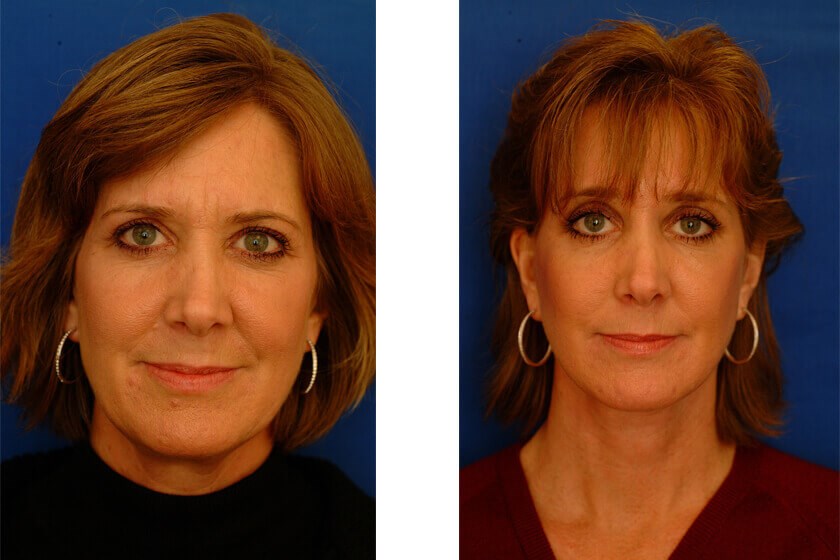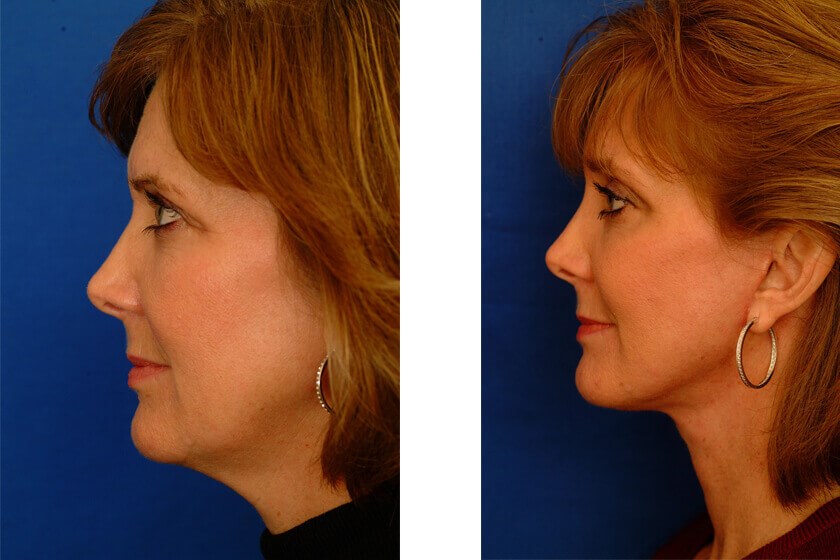 A 47-year-old patient of Dr. Juris Bunkis in Newport Beach, California, before and a year after a face and brow lift. Note that the neck bands and jowls are gone, the wrinkles between the eyebrows are less noticeable, and the forehead raised subtly, a few millimeters, to where they were in youth.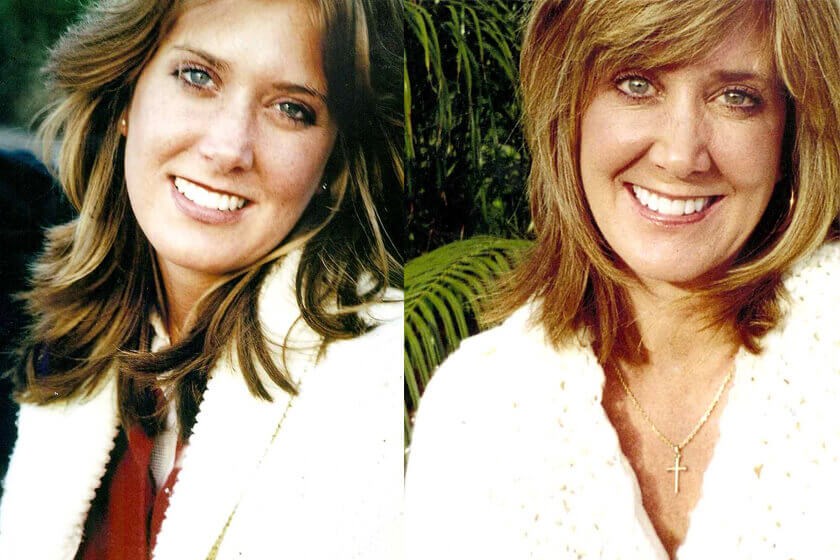 Same patient at age 23 and ten years after her face and brow lift. Note the natural appearance and similarity in facial shape to what she had in her youth.
Lifting the sagging muscles takes the fullness from the jowls and neck and creates a fullness in the cheek area, giving the face a youthful "V" shape. Please send any questions you would like to see answered in a future blog to [email protected]. You may call the offices of Dr. Bunkis in Newport Beach at 949-888-9700 to schedule a cosmetic consultation. You can also visit our main website by clicking here.