Many patients fear going under the knife for surgical procedures. For most patients, this fear comes from the idea of having anesthesia. I can say, from personal experience, that our anesthesiologists are absolutely fantastic! With that being said, some patients would be much better fit to have a surgical procedure with OC's best Plastic Surgeon, Dr. Bunkis, while some patients would do great with non-invasive procedures. The biggest differentiating factor in choosing surgery over non-surgical treatments, other than for health reasons, would be selecting the right candidate and together, creating realistic expectations.
There are many reasons to choose surgical procedures over non-surgical and sometimes non-surgical treatments may be more appealing. Surgical procedures offer the convenience of conscious sedation with anesthesia, multiple procedures at once with one downtime and when considering fat reduction, skin removal or skin tightening, the results can be more predictable. However, there are some non-invasive treatments that can be done in the office without having anesthesia.
Specifically let's discuss body contouring options. These procedures include: SculpSure and ThermiSmooth and even SculptraAesthetic.
SculpSure is the only FDA approved laser for permanent fat destruction! It is done in the office and can provide up to 24% in fat reduction with each treatment! Almost any area can be treated, from the jawline and stomach, to the infragluteal fold aka "banana roll", flanks and thighs. Each treatment is 25 minutes and you could go right out in a bathing suit after your treatment and no one would know! Each treatment is spaced 6 weeks apart with final results 12 weeks after the final treatment. Some areas require 2 or 3 treatments per the FDA approval, but every treatment plan is completely customizable. Because this treatment uses heat, it can tighten the skin a bit as well.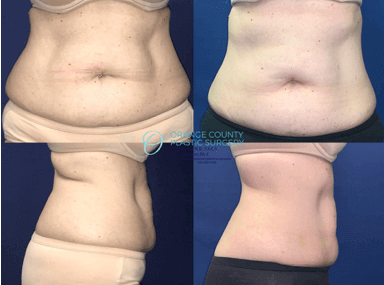 Actual SculpSure patient of Crystal Osborn, PA-C. Areas treated include Abdomen and flanks.

ThermiSmooth is a radiofrequency treatment that can be used to de-bulk small areas of excess fat, tighten skin and even smooth cellulite. There are many modalities and hand pieces that can be alternated to achieve the various goals and this treatment can be done on the face, arms, legs and abdomen. This treatment should be completed in a series of 4-6 with maintenance treatments done as needed.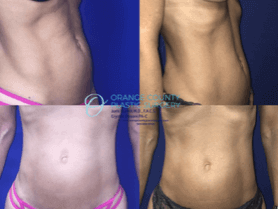 Actual Patient of Juris Bunkis MD FACS. She had ThermiSmooth of the abdomen.

Sculptra Aesthetic, or poly-L-lactic acid, is an injectable product used when adding volume is desired. Often times this product is used on the face and now more commonly than ever before, used for contouring and creating a beautiful buttock augmentation in the office, especially when a patient does not have enough of their own body fat to graft and does not want gluteal implants!
Conversely, the surgical options for body contouring include tummy tucks, bodylifts, liposuction, fat grafting, arm and leg lifts, to name a few.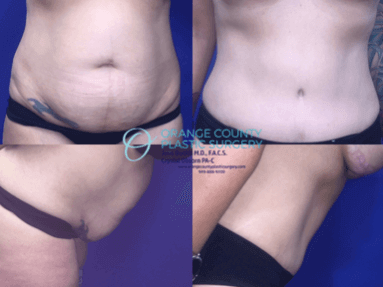 Actual Surgery Patient of Juris Bunkis MD FACS (Tummy Tuck with Liposuction)
Please come by to see which procedures fit your needs, we will work together to create a plan to work towards your aesthetic goals!