"If a person receives lip injections many times starting at a younger age, can a lip start to look wrinkled, kind of like deflated balloon, if they decided to stop?" Bridgette C - Corona del Mar
All fillers we use for lip injections today are fully absorbable.    Once they absorb, the treated site will look exactly like it would have had you not previously had a filler.
Lips become more wrinkled as we age, more so in females, for a combination of factors, a natural deflation being one of them.   Lines also begin to become more prominent due to chronic muscle contraction, which creates lines perpendicular to the direction of the muscle contraction, leading to mainly vertical lines on the lips.   We offer a number of options to treat lip lines.   Lip lines can be improved by filling the lips with either fat or hyaluronic acid, by weakening the muscle action with Botox® (something we do not routinely recommend because the weakening lip muscles will interfere with function), or by treating the surface of the skin with either lasers or chemical peels.   Which method would be most appropriate for a given patient varies with multiple factors – you should see a qualified physician to go over your options before making this important decision!    Many young and healthy patients who have not had any particular fat loss of their lips or faces choose to enhance their appearance by injecting a filler into their lips to make them appear fuller for purely aesthetic reasons.    
Over the years, many different substances have been tried as fillers.   Today, the most commonly used fillers in our practice are the various hyaluronic acid products (e.g. Juvederm®, Voluma®, etc.) or microfat grafts (utilizing the patient's own fat).    Hyaluronic acids are naturally occurring polysaccharides (polysaccharides are sugars, long chains of carbohydrates), which can be purchased in syringes and can be used to fill lines or to add volume to lips, cheeks, temples, hands, etc.   From a patient's perspective, you should not be able to tell which filler was used – the external results will look the same.   The hyaluronic acids last 4-18 months, depending on which one is chosen, and thereafter are totally absorbed.   Lips are sensitive and in order to minimize discomfort, we pretreat patients with a numbing cream and use a hand held vibrator which distracts the patients and makes the procedure more tolerable, as seen in the video below. Your own fat may take as a graft and, while some may absorb in the process, a portion of the transferred fat will take as a graft and last forever.
Below are a few different examples of patients whose lips were improved by Dr. Bunkis.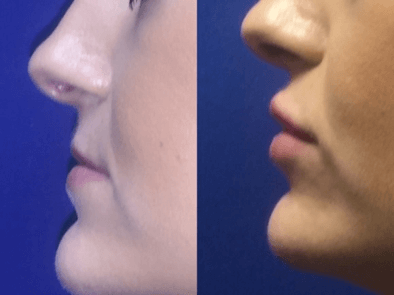 (Actual patient of Dr. Bunkis) 26 year old female before and after lip injections with Voluma®.

(Actual patient of Dr. Bunkis) 46 year old female, who was going to surgery for an unrelated procedure, before and after a microfat grafting procedure to restore volume to her lips and consequently, to minimize her vertical lip lines.

(Actual patient of Dr. Bunkis) And finally, here is an example of a 61 year old female with marked lines around the mouth, mainly due to muscle action, before and after a CO2 laser resurfacing of the area around the mouth.
If you have any specific questions about cosmetic procedures, your best bet would be to see a qualified plastic surgeon to review your options. Pease feel free to contact our office at 949-888-9700 to set up an appointment with Dr. Bunkis; you may wish to check out our special on Botox as part of our 12 days of Christmas event, see details at https://orangecountyplasticsurgery.com/Specials