"I was in the mall yesterday and noticed a woman whose face had been pulled so tight she looked scary! I could not understand which doctor would do this????  This woman is a walking advertisement!"        
Stacy F.     Huntington Beach, CA
That is a good question, Stacy, but I think that even though the problem clearly involves both the doctor and the patient, the final responsibility in deciding which procedure to do belongs to the doctor.  Some plastic surgeon's "signature" is an overdone face, breasts, nose, etc.   I do not believe it is ever a good idea to overdo a surgical procedure!    Some patients do come in asking for overdone breasts, faces, or noses.      I take into account a patient's best interests, even tough all of us have heard, "Pull it as hard as you can doc, this will be my last facelift!"   More is rarely better!   No patient should ever agree to a procedure without seeing a multitude of photographs of similar patients done by the surgeon, staff members who have had similar procedures, or a computer simulation of the expected result.   The patient and the surgeon should be on the same page before the trip to the operating room.    When a patient asks me to do a procedure, their job is to communicate their desires with me so we can decide if I can deliver what the patient expects, and my job is to educate the patient regarding expectations, or to turn them down if totally unreasonable.   Otherwise, the surgeon will get, as you said, a bad advertisement in the community and damage his reputation.    
It is possible with any of these procedures to go back and to do a little more and still end up with a great result, rather than being faced with a situation where the tissues have been over stretched, over stuffed, over resected, or over liposuctioned – many of these deformities are very difficult, if not impossible, to correct.
Does anyone thing this lady looks good? (Not a patient of Dr. Bunkis!)
When I do a rejuvenating facial procedure, my goal is to turn the clock back and leave the patient with a natural, youthful appearance, not to pull the face taunt or to lift the brows unnaturally high to a point where they have never been before.    As an example, here are two front view photographs of Tina in our office (feel free to stop by and see her and to ask her any questions), the first at age 23 while she was a flight attendant, living in Hawaii, and the second years later in her late 50's, ten years after a face and brow lift.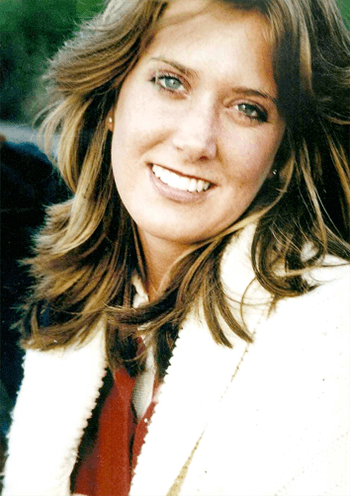 Tina at age 23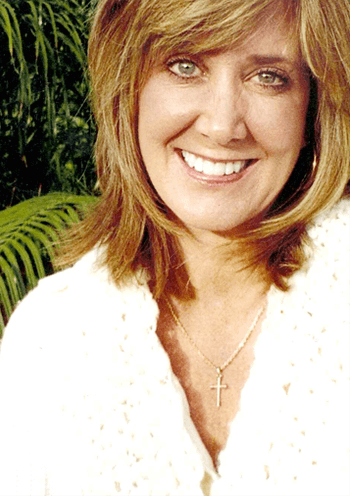 Tina in her 50's, 10 years after a face and brow lift (Actual patient of Dr. Bunkis)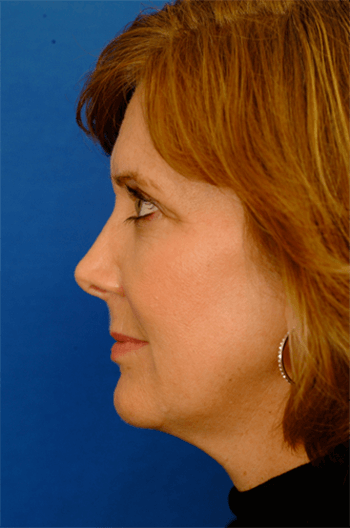 Tina before brow/face lift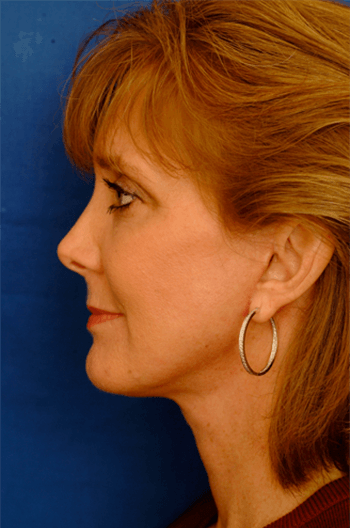 Tina a year after her brow/face lift
Sometimes a very pleasing change over can be achieved with a relatively simple and minimally invasive procedure!    One of the best ways to envision how you would look following such procedures is through the use of computer imaging.  If you would like to set up a complimentary computer imagine session, please feel free to contact Orange County Plastic Surgery at 949-888-9700.