Times are changing and people now, more than ever, are interested in anti-aging and turning back the hands of time. There are many non-invasive procedures that can be done in the office to help slow the effects of aging.
Botox®. Botox® is one of the most popular treatments, done across all age groups, here at Orange County Plastic Surgery. It can help prevent lines in the skin- that are typically created over time due to excessive movements and expressions. Starting Botox® early,with what I call a sprinkle or baby Botox®, is a great way to address this!

Lasers. There are so many different lasers on the market; it can be a daunting task to sift through them all. What I can say about laser treatments is that not every laser or settings are equally efficacious for every patient's needs. It really depends what you are trying to correct. I do have one laser in particular that I really love and that is the Laser Genesis®. This laser is great for improving red undertones, fine lines and reducing pore size. There is zero downtime and it is a great option to prevent and maintain a healthy glow.

Radiofrequency. The Rf we use here is called ThermiSmooth®. This device offers a wide range of hand piecesand be used for many areas of the body. RF uses heat in order to stimulate collagen and help tighten and smooth the skin. The most popular areas for this treatment are the around the eyes and mouth, abdomen and thighs. Again, by stimulating collagen early on, you help prevent further breakdown and thus aging of the skin and sagging over time.

Chemical peels. Some of the lighter, mid-depth peels can do wonders for early signs of aging and sun damage on the face, neck and chest. My favorite peel to use for this purpose is called the Perfect Peel ®. The downtime for this peel is about a week and you can expect it to diminish acne, improve fine lines and hyperpigmentation.

Microneedling. Another great, minimally invasive treatment we will be offering at OCPS, starting this July, is microneedling. We have the only FDA approved microneedling device on the market, SkinPen ®, to ensure patient safety, efficacy and consistent results! This procedure provides relief from old acne scarring, improving skin texture and tone by stimulating collagen and elastin! Microneedling can be done on the face, neck, décolletage and the upper arms- for that pesky "crepey" skin! Finally, a safe way to treat all skin types!

Bioidentical Hormone replacement therapy. BHRT pellets are a great way to address brain fog, dry skin, low libido and low energy. We run a few labs, discuss symptoms and customize dosing. Pellets can easily be placed in the office or during your next surgical procedure. Keeping hormones in balance is a key component to looking and feeling your best!
The good news, you don't have to dissect all of this information on your own, we can create a plan tailored just for you during your consultation!
If however, you have deeper lines and too must elasticity has been lost- we have Dr. Juris Bunkis, Orange County's best plastic surgeon, to meet with you to address surgical options.
Sometimes a combination of surgery with one or more of the treatments listed above yields the best results! AND don't forget to protect your surgical investment and maintain your results with minimally invasive procedures!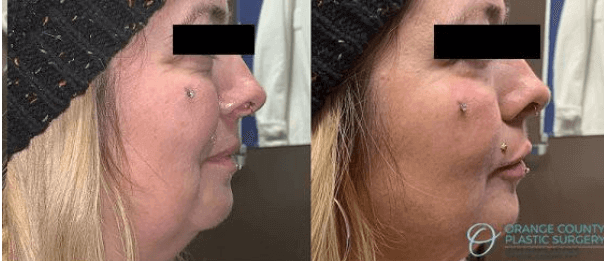 Actual Botox and filler patient of Crystal Osborn, PA-C at Orange County Plastic Surgery.
Please check our website for a wide range of before and after photos!