"I want to get my breast done before spring - are breast implants safe?" Jenny C. from Corona Del Mar
Fashion may be fickle but women have been coveting fuller breast for years. If you are considering a breast augmentation, or any surgical procedure, you have to understand that there are risks, as there are with any activity in life, but the trick is to keep the risks manageable. Every type of implant inserted into the human body develops a thin layer of scar tissue around the implant, and even the softest, most natural feeling breasts have this layer of scar tissue surrounding the implants. With a breast implant procedure, the idea is to create a large pocket under the breast tissue and to choose an implant which is significantly smaller than the confines of the space, allowing the implant to move and the breast to feel natural.
Two factors can cause the breast to feel unnaturally firm: first of all, if too large an implant has been chosen for any given patient and the implant does not have room to move around, the breast does not have a chance to feel normal and will feel hard; and secondly, if an appropriate pocket was originally created for a given implant but the scar tissue contracts, shrinks down, the implant again will not have room to move and the breast will feel hard as well. Breasts enlarge with saline implants do not feel as natural as breasts augmented with silicone implants and we do not use saline implants anymore.
Today's implants have two major changes compared to implants used prior to 1990. The gel that was used in the 1960's through the 1980's was a thick, gooey liquid. The gel in implants today is "cohesive", the consistency of a marshmallow - when cut in half, these implants stay in one piece and do not "leak". Secondly, today's implants contain thicker and more durable shells. And finally, surgical techniques, antibiotics and anesthetic agents have improved greatly since the early days of breast implantation, making the procedure a very safe one with low surgical risks. Incisions now are much shorter and more hidden, the placement of the implants above or beneath the pectoralis major muscle has been perfected. Some patients will also request a breast lift.
Like all man-made devices, breast implants do wear out and should be replaced at about 20 years - by that time, the scar tissue around the implants starts to develop calcium deposits; these are sharp and shred the implants! So if your implants have been in for longer than 15 years, you should be making plans to have your implants exchanged! I must say that breast enhancement patients are some of the happiest patients after their procedures!
If you have any specific questions about cosmetic procedures, your best bet would be to see a qualified plastic surgeon and to review your options. Dr. Bunkis is a double Board Certified plastic surgeon with over 35 years of experience and is Harvard trained. Please feel free to contact our office at 949-888-9700 to set up an appointment with Dr. Bunkis.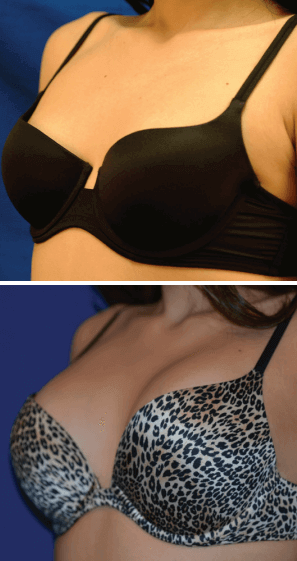 36 year old mother of two who lost breast volume after her pregnancies, before and after a breast augmentation. Actual patient of Dr. Juris Bunkis