Dr. Bunkis will be regularly featured in this Cosmetic Surgery, Ask the Doctor Q&A column. We invite you to call Dr. Bunkis at 949-888-9700, or email your questions to [email protected] . Enjoy!
"I WANT A LIPOSUCTION. I SAW A FEW DOCTORS AND HAD A VARIETY OF RECOMMENDATIONS BASED ON VARIOUS MACHINES AND TECHNIQUES.   BASICALLY, I'M CONFUSED. CAN YOU GIVE US A SYNOPSIS OF THE PROCEDURE AND VARIOUS ALTERNATIVES?" Jean S, Costa Mesa, CA  
Body contouring is currently one of the most commonly performed surgical procedures in the United States by plastic surgeons - second only to breast augmentation.  Options range from nonsurgical methods involving heat or cold, to the traditional liposuction. While some fat can be removed with nonsurgical methods such as the radio frequency treatments like ThermiSmooth and Cool Sculpting, these methods are unpredictable and do not do as good a job at removing fat as a traditional liposuction procedure. The beauty of this purely elective procedure is that it allows the surgeon to remove bothersome, disproportionate, localized fat deposits through relatively inconspicuous incisions. The liposuction procedure has been designed to vacuum away localized, stable fatty deposits - ideally those which cannot be controlled by diet and exercise. Liposuction should not be considered as an alternative method of weight control or a treatment for generalized obesity; nor will suction lipectomy help loose skin (unless combined with a traditional resection).One problem with the nonsurgical methods is that they only allow removal of the most superficial fat, causing surface dimples or ripples. With a traditional liposuction, the most superficial fat is left untouched. Only the fat within the layer between the skin and the first layer of muscles is accessible to liposuction - fat within your abdominal cavity, for example, can just be decreased by consuming less calories or by burning more calories!
A large variety of liposuction machines are now on the market and each manufacturer will tout his as the best one available (just as Chevy, Ford or Chrysler will tell you that their cars are superior to the competition, but is one brand really that superior to the others?). We have a variety of machines available, but it is generally accepted in the scientific literature that results are based more on surgical technique and the size of cannulas (the smaller the cannula, the less bruising and blood loss) than on brand or type of machine. The various Laser, Vaser, Water Jet, Power Assist, Laser and Ultrasound machines all produce comparable results, the main advantage over the older generation of machines being the decrease in bruising and the decrease in surgeon fatigue!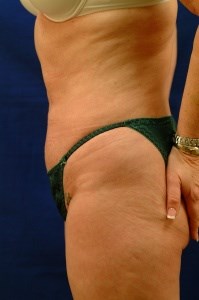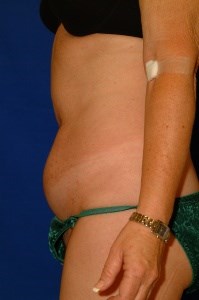 (Actual patient of Dr. Bunkis)     46 year old female, before and 3 years after aspiration of the excess fat from her abdominal wall and flanks.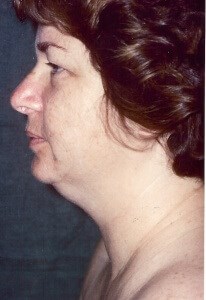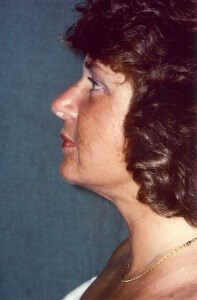 (Actual patient of Dr. Bunkis)   42 year old female before and after a neck liposuction and an upper eyelid blepharoplasty.
You may check out our web site at www.orangecountyplasticsurgery.com to see further examples of similar patients.